Francine Milford
Do~In
DoIn is a form of self massage that can invigorate the body and bring vital oxygen to the tissues and organs. Used daily, a DoIn routine can bring your body into balance and maintain health and vitality. Includes photographic illustrations with easy to follow directions.
To see the complete list of titles in both print and as ebooks, please visit:http://www.lulu.com/spotlight/gcuniverse
DoIn teaches us how to activate the 12 major meridian systems of the body to help bring balance and vitality to the major organs and organ systems of the body.
For massage therapists, this a great way to use tapotenment, acupressure points, and brushing techniques before their regular massage session (or in place of a regular massage session). These techniques can take anywhere from 12 minutes to a full one hour session depending upon you and your client.
Course is open to non-massage therapists too who feel that they can benefit from these simple techniques.
Cost of Book
Cost of Book $12.99 plus $4.99 postage
Cost of ebook $10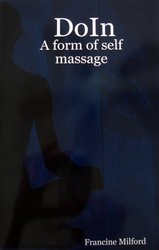 Contact Me with your Questions
Exercise Site